Änne Troester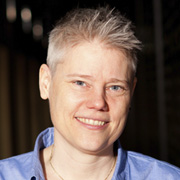 grew up in Germany, Austria, and the U.S. and studied American Studies at universities in Frankfurt and Leipzig, Germany, and Champaign-Urbana, Illinois. She financed her studies with scholarships, jobs at universities and advertising agencies, and translating and editing advertising and PR copy and novels. Her master's degree was followed by an internship at FCF-Synchron and several years in academia. In 1996 she moved to Berlin to begin her career in the dubbing business, initially as a translator, while also writing film reviews for Exberliner magazine. In 2003, she completed her PhD-work with a thesis on Paul Auster.
Today she writes adaptations for dubbing companies like RC Production, FFS, Berliner Synchron, Deutsche Synchron, and Interopa. TV-series include "Warehouse 13" or the French miniseries "Xanadu" for arte. "Extras" won the German Dubbing Award for Best TV-Series in 2009. Cinematic releases range from INLAND EMPIRE (David Lynch) to STAR TREK, the Argentinian Oscar-winner EL SECRETO DE SUS OJOS, and George Clooney's THE IDES OF MARCH, and J.J. Abrams' blockbuster NOAH.
Leisure time means friends, travel, reading, eating, whisky, recorders, 1. FC Union soccer, Italian, and looking for snow everywhere.